Captain Sean Carlin fishes with a silent intensity that makes you feel like you're witnessing something serious, like bomb dismantling or heart surgery. His face is angled to detect the slightest movement along his peripheral that a normal person would never notice. He's still, but you can see his mind moving and never relaxing. You can't understand what he's thinking unless you're a world class fisherman who lives, eats, and breathes fishing.
According to his family, Sean was born this way. Some might have assumed he had Attention Deficit Disorder (ADD) but when he was 2 years-old, he held his first fishing pole at a trout farm in Northern California. Sean stood still for perhaps the first time until he brought in his first fish. So began his journey of a lifetime.
His mom recalled the moment she knew there was something was different about Sean. "When he was about five, he did whatever it took to earn quarters from me just so he could play the claw machine in the grocery store. That's the large plexiglass box of assorted toys and stuffed animals with a three-prong claw that dangles from a cable. There are buttons on the outside that control the direction of the claw but it's tricky. Sean would load up his pockets with hard-earned money and lose quarter after quarter, watching the dangling claw jerk forward and left, a little to the right, then down. The claw would close in on the Ninja Turtle knock-off toy and lift it two inches, and he'd almost bring it in and then, at the last minute it would slip out of the claw's grip and bounce into the pile of uncaught toys. One day I tried to reason with him 'Sean, you could have bought three toys with the money you spent trying to win that one.' and he replied with the seriousness of a lawyer making his closing argument 'I know' he said 'but it's soooo much better when you win it!'"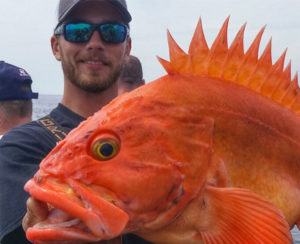 Fishing is like a giant ocean-sized claw machine for Sean. It doesn't matter how much time it takes, or how much money he spends, or how many slip away, he won't give up. He's not only catching fish, he's winning them. He'll apply everything he's ever learned in life to catch the next fish.
Sean grew up in Calistoga, a northern California small town where fishing holes and rivers still had fish and an 8 year-old could go fishing by himself or with friends. On special occasions he'd get a fishing trip on a charter boat in Bodega Bay. After high school, Sean moved to Hawaii and was "camping" for a few months before he found a nice room to rent. By camping, I mean he was living in a tent and riding a $10 bike to his busboy job in Lahaina and catching fish in his off time. And by renting a room, I mean he rented a walk-in closet in an apartment with roommates who were moving back and forth from Hawaii to Alaska as fishermen.
Sean found out where to go, who to talk to, and off he went to Seward, Alaska, where he'd soon discover the best fishing in the world. He landed a job as a deckhand for Alaska Northern Outfitters. He was 19 and hungry for fishing. They overworked him, yelled at him, made him do work that would make most people from the lower 48 quit over. But they couldn't break him. He'd do anything for that boat and the chance to become a professional fisherman. Sean has always been a family man and Alaska Northern Outfitters and the people of Seward became is second family.
With a drive you only read about in Jack London novels and Forbes magazine, he set out to learn everything about fishing, boats, navigation, everything. He took his turn as a commercial fisherman and decided that was not going to be his gig. He moved back to Hawaii for a couple of winters which provided him with some warm water experience catching tuna. But Hawaii just wasn't as big and raw as Alaska, so it never held him there.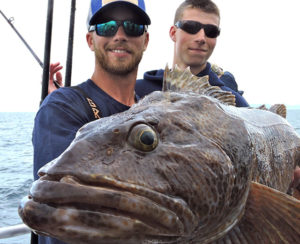 It's not always possible for people to find their career calling, or perhaps they find it but can't make a living from it. But for Sean there was no other option and nothing could stop him. He earned his captain's license when he was just 21 years-old and after 3 years, he became part owner Alaska Northern Outfitters where he currently holds the captain's position. He'll work 16 hours a day, seven days a week and if he gets one day off, he'll go fishing. Through the grace of the sea gods, he found a woman that will fish with him and loves him for it. A rare and lovely catch.
He and his wife Angela have fished all over the world, spending their off seasons in Southeast Asia, Central America, and South Africa. He can always find a fellow fisherman who speaks his (fishing) language and though they might not share any other language, he will learn where the best fishing spots are and what they're hitting on. Sean and Angela live in San Diego in the off season, conveniently located near the water where Sean has finagled friendships with the locals who own fishing boats. When he's not fishing, he's buying and selling yachts to people who dream of having his life, telling them stories of his adventures, and picking out their gear for them.
If you ask him today what he wants in life, he'll tell you he wants to be the best fisherman in the world. Most of his clients already think he is, but this will be a lifetime journey for him. He will always be looking for the best spot, best gear, and best bait. He will never find it, but that's why it's called "fishing" and not "catching."